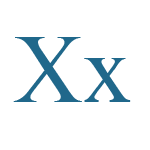 Xx is a somewhat special letter in written English because it does not represent its own unique phoneme. In fact, it often serves to represent more than one phoneme in a word. For this reason, instructors may devote time in an introductory cued English class to covering how words with Xx are cued.
Common Pronunciation
The most common pronunciation for the letter x is a combinations of /kkkkkkkkk/ and /sssssssss/ as in Texas, mix, flax, six. Another common pronunciation is the combination of /ggggggggg/ and /zzzzzzzzz/ as in example and exist. Some words may may be pronounced with either combination. For example, exit may be pronounced with /ks/ or /gz/. Which combination is used may be a function of one's dialect or the part of speech. For some cuers, one combination may be used for the noun and the other for a verb:
Notice that the addition of either /sssssssss/ or /zzzzzzzzz/ to the preceding consonant follows the same voicing rule that occurs with addition of plural -s. Voiceless /kkkkkkkkk/ takes voiceless /sssssssss/. The voiced consonant /ggggggggg/ takes the voiced consonant /zzzzzzzzz/. So, while a word may be pronounced with either /ks/ or /gz/, it is unlikely to mix those combinations. In other words,  */kz/ or */gs/ are unlikely pronunciations for native English users.
Additional Pronunciations
The letter Xx has several other possible pronunciations. At the beginning or words, it may be pronounced as /zzzzzzzzz/. The following table provides a few of the less common pronunciations of this tricky letter.
Practice
ax, axis, box, deluxe, exact, exhaust, fax, fix, flex, fox, Mexico, mixer, oxygen, pox, sexy, taxes, toxic, toxin, wax.
See Also