The consonant phoneme found in the middle of the word measure is a common topic during introductory cued English workshops. While it may occur with less frequency than other consonant phonemes, the /zh/ or /ʒ/ is still a necessary segment in dialects of American English and is found in hundreds of words.
Notation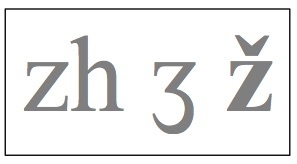 In most (if not all) variations of phonemic representation methods, the consonant is transcribed as /zh/. The International Phonetic Alphabet symbol is /ʒ/, and the name of the letter is ezh. In Americanist phonetic notation, which is used in the book Cued Language Structure, the symbol is written as a z with a hacek – /ž/. 
Dialect
While this page is devoted to the topic of /ʒzhzh/, it is important for both new cuers and instructors to realize that any word is subject to variations in dialect. It's key that new cuers learn to recognize /ʒzhzh/ whether they pronounce garage with handshape 1 or handshape 7.
Practice
One-Syllable Words
beige, Jacques, luge, rouge, zhuzh
Two-Syllable Words
Asia, Asian, azure, closure, collage, corsage, dressage, Frasier, freesia, fusion, garage, genre, Hoosier, leisure, lesion, massage, measure, mirage, Persia, Persian, prestige, seizure, treasure, triage, version, vision, Zsa Zsa
Three-Syllable Words
abrasion, adhesion, amnesia, aphasia, aversion, Baton Rouge, bon voyage, camouflage, casual, casually, Caucasian, collision, concierge, conclusion, contusion, conversion, corrosion, decision, delusion, derision, division, effusion, elision, enclosure, entourage, envision, erosion, Eurasian, excursion, explosion, exposure, illusion, immersion, incision, inclusion, intrusion, invasion, luxury, measurement, occasion, occlusion, Parisian, Parmesan, precision, protrusion, provision, persuasion, revision, sabotage, soupe du jour, transfusion, treasury, usual, usually, visually
Four-Syllable Words
circumcision, disillusioned, espionage, luxurious, measurable, occasionally, pleasurable, revisionist, subdivision, supervision, television, unusually, visionary, visualizing
Five-Syllable Words
Instruction
While it is common for words containing /ʒzhzh/ to be included during the introduction of handshape 1, instructors may want to provide other opportunities to recognize /ʒzhzh/ during an introductory course. Inclusion of words like garage, prestige, and luxury after the other necessary cues have been covered will help students incorporate /ʒzhzh/ into their cueing.  
There's little argument that /ʒzhzh/ occurs with less frequency than /ppp/ or /ddd/. However, instructors should avoid downplaying the phoneme so much that students disregard it. Common myths among beginners suggest that /ʒzhzh/ occurs in fewer than 10 English words or that it only occurs in borrowed French words. Neither of these statements is true.
Instructors may wish to encourage students to recognize /ʒzhzh/ but find that some words may be too difficult for new cuers. In such cases, instructors can provide exercises where cuers must simply recognize and /ʒzhzh/ words from a list that also contains foils (words that do not contain /ʒzhzh/ but have similarly produced phonemes). For example: abuses, admission, cushion, fashion, pigeon, supervisor, tissues, urges. Additionally, instructors could have students select one /ʒzhzh/ word from the list to practice with a partner. These ways of scaffolding students allow them to work with the concepts in ways that are appropriately challenging to their level.
Instruction of /

ʒ

zh

zh

/ to Deaf Adults
One of the most common issues in teaching deaf adults to cue or working with native cuers attending beginner or intermediate classes is dealing with the "I never knew that!" response. This is especially prevalent when introducing or reviewing words that contain a /ʒzhzh/ consonant as opposed to the generally anticipated or predicted /ʤjj/ or /ʃshsh/ consonant.
Individuals who are deaf may not hear whether an uncommon word has a /ʒzhzh/ versus a /ʤjj/ or /ʃshsh/ (all of which appear the same when lip reading). In general, cuers who have had exposure to these words through cueing acquire the correct pronunciation passively. However, for words that are encountered solely through print, later memorization and recognition of patterns among similar words may be necessary. Some words that use /ʒzhzh/ (e.g., concierge) come by way of French. Similarly, most "_easure" words (e.g., pleasure, measure, and treasure) are also /ʒzhzh/ words.
The word lists above include the most common /ʒzhzh/ words and can be provided to deaf adults who want to ensure they are cueing these words accurately.
measure
/mɛˈʒɚ/
/mehˈzhur/
/měˈzhûr/
5c1m
garage
/gɚɑˈʒ/
/gurahˈzh/
/gûräˈzh/
7m5sf1s
garage
/gɚɑˈʤ/
/gurahˈj/
/gûräˈj/
7m5sf7s
beige
/beɪˈʒ/
/bayˈzh/
/bāˈzh/
4c5t1s
Jacques
/ʒɑˈk/
/zhahˈk/
/zhäˈk/
1sf2s
luge
/luˈʒ/
/lueˈzh/
/lo͞oˈzh/
6c1s
rouge
/ruˈʒ/
/rueˈzh/
/ro͞oˈzh/
3c1s
zhuzh
/ʒʊˈʒ/
/zhooˈzh/
/zho͝oˈzh/
1t1s
Asia
/eɪˈʒə/
/ayˈzhə/
/āˈzhə/
5c5t1sd
Asian
/eɪˈʒən/
/ayˈzhən/
/āˈzhən/
5c5t1sd4s
azure
/æˈʒɚ/
/aˈzhur/
/ăˈzhûr/
5t1m
closure
/kloʊˈʒɚ/
/klohˈzhur/
/klōˈzhûr/
2s6sf1m
collage
/kəlɑˈʒ/
/kəlahˈzh/
/kəläˈzh/
2sd6sf1s
corsage
/kɔrsɑˈʒ/
/kawrsahˈzh/
/kôrsäˈzh/
2c3s*3sf1s
dressage
/drɛsɑˈʒ/
/drehsahˈzh/
/drěsäˈzh/
1s3c3sf1s
Frasier
/freɪˈʒɚ/
/frayˈzhur/
/frāˈzhûr/
5s3c5t1m
freesia
/friˈʒə/
/freeˈzhə/
/frēˈzhə/
5s3m1sd
fusion
/fjuˈʒən/
/fyueˈzhən/
/fyo͞oˈzhən/
5s8c1sd4s
garage
/gɚɑˈʒ/
/gurahˈzh/
/gûräˈzh/
7m5sf1s
genre
/ʒɑˈnrə/
/zhahˈnrə/
/zhäˈnrə/
1sf4s3sd
Hoosier
/huˈʒɚ/
/hueˈzhur/
/ho͞oˈzhûr/
3c1m
leisure
/liˈʒɚ/
/leeˈzhur/
/lēˈzhûr/
6m1m
lesion
/liˈʒən/
/leeˈzhən/
/lēˈzhən/
6m1sd4s
massage
/məsɑˈʒ/
/məsahˈzh/
/məsäˈzh/
5sd3sf1s
measure
/mɛˈʒɚ/
/mehˈzhur/
/měˈzhûr/
5c1m
mirage
/mɚɑˈʒ/
/murahˈzh/
/mûräˈzh/
5m5sf1s
Persia
/pɚˈʒə/
/purˈzhə/
/pûrˈzhə/
1m1sd
Persian
/pɚˈʒən/
/purˈzhən/
/pûrˈzhən/
1m1sd4s
prestige
/prɛstiˈʒ/
/prehsteeˈzh/
/prěstēˈzh/
1s3c3s5m1s
seizure
/siˈʒɚ/
/seeˈzhur/
/sēˈzhûr/
3m1m
treasure
/trɛˈʒɚ/
/trehˈzhur/
/trěˈzhûr/
5s3c1m
triage
/triˈɑʒ/
/treeˈahzh/
/trēˈäzh/
5s3m5sf1s
version
/vɚˈʒən/
/vurˈzhən/
/vûrˈzhən/
2m1sd4s
vision
/vɪˈʒɪn/
/viˈzhin/
/vĭˈzhĭn/
2t1t4s
Zsa Zsa
/ʒɑˈʒɑˌ/
/zhahˈzhahˌ/
/zhäˈzhäˌ/
1sf1sf
abrasion
/əbreɪˈʒən/
/əbrayˈzhən/
/əbrāˈzhən/
5sd4s3c5t1sd4s
adhesion
/ædhiˈʒən/
/adheeˈzhən/
/ădhēˈzhən/
5t1s3m1sd4s
amnesia
/æmniˈʒə/
/amneeˈzhə/
/ămnēˈzhə/
5t5s4m1sd
aphasia
/əfeɪˈʒə/
/əfayˈzhə/
/əfāˈzhə/
5sd5c5t1sd
aversion
/əvɚˈʒən/
/əvurˈzhən/
/əvûrˈzhən/
5sd2m1sd4s
Baton Rouge
/bæˈtən ruˈʒ/
/baˈtən rueˈzh/
/băˈtən ro͞oˈzh/
4t5sd4s3c1s
bon voyage
/bɑˈn vɑɪɑˈʒ/
/bahˈn vieahˈzh/
/bäˈn vīäˈzh/
4sf4s2s5t5sf1s
camouflage
/kæˈməflɑˌʒ/
/kaˈməflahˌzh/
/kăˈməfläˌzh/
2t5sd5s6sf1s
casual
/kæˈʒəwəl/
/kaˈzhəwəl/
/kăˈzhəwəl/
2t1sd6sd6s
casually
/kæˈʒwəli/
/kaˈzhwəlee/
/kăˈzhwəlē/
2t1s6sd6m
Caucasian
/kɔkeɪˈʒən/
/kawkayˈzhən/
/kôkāˈzhən/
2c2c5t1sd4s
collision
/kəlɪˈʒən/
/kəliˈzhən/
/kəlĭˈzhən/
2sd6t1sd4s
concierge
/kɑˌnsiɛˈrʒ/
/kahˌnseeehˈrzh/
/käˌnsēěˈrzh/
2sf4s3m5c3s1s
conclusion
/kənkluˈʒən/
/kənklueˈzhən/
/kənklo͞oˈzhən/
2sd4s2s6c1sd4s
contusion
/kəntuˈʒən/
/kəntueˈzhən/
/kənto͞oˈzhən/
2sd4s5c1sd4s
conversion
/kənvɚˈʒən/
/kənvurˈzhən/
/kənvûrˈzhən/
2sd4s2m1sd4s
corrosion
/kɚoʊˈʒən/
/kurohˈzhən/
/kûrōˈzhən/
2m5sf1sd4s
decision
/dɪsɪˈʒən/
/disiˈzhən/
/dĭsĭˈzhən/
1t3t1sd4s
delusion
/dɪluˈʒən/
/dilueˈzhən/
/dĭlo͞oˈzhən/
1t6c1sd4s
derision
/dɚɪˈʒən/
/duriˈzhən/
/dûrĭˈzhən/
1m5t1sd4s
division
/dəvɪˈʒɪn/
/dəviˈzhin/
/dəvĭˈzhĭn/
1sd2t1t4s
effusion
/ɪfjuˈʒən/
/ifyueˈzhən/
/ĭfyo͞oˈzhən/
5t5s8c1sd4s
elision
/ɪlɪˈʒən/
/iliˈzhən/
/ĭlĭˈzhən/
5t6t1sd4s
enclosure
/ɛnkloʊˈʒɚ/
/ehnklohˈzhur/
/ěnklōˈzhûr/
5c4s2s6sf1m
entourage
/ɑˌntɚɑˈʒ/
/ahˌnturahˈzh/
/äˌntûräˈzh/
5sf4s5m5sf1s
envision
/ɛnvɪˈʒən/
/ehnviˈzhən/
/ěnvĭˈzhən/
5c4s2t1sd4s
erosion
/ɪroʊˈʒən/
/irohˈzhən/
/ĭrōˈzhən/
5t3sf1sd4s
Eurasian
/jɚeɪˈʒɪn/
/yurayˈzhin/
/yûrāˈzhĭn/
8m5c5t1t4s
excursion
/ɪkskɚˈʒən/
/ikskurˈzhən/
/ĭkskûrˈzhən/
5t2s3s2m1sd4s
explosion
/ɪksploʊˈʒən/
/iksplohˈzhən/
/ĭksplōˈzhən/
5t2s3s1s6sf1sd4s
exposure
/ɪkspoʊˈʒɚ/
/ikspohˈzhur/
/ĭkspōˈzhûr/
5t2s3s1sf1m
illusion
/ɪluˈʒən/
/ilueˈzhən/
/ĭlo͞oˈzhən/
5t6c1sd4s
immersion
/ɪmɚˈʒən/
/imurˈzhən/
/ĭmûrˈzhən/
5t5m1sd4s
incision
/ɪnsɪˈʒən/
/insiˈzhən/
/ĭnsĭˈzhən/
5t4s3t1sd4s
inclusion
/ɪnkluˈʒən/
/inklueˈzhən/
/ĭnklo͞oˈzhən/
5t4s2s6c1sd4s
intrusion
/ɪntruˈʒən/
/intrueˈzhən/
/ĭntro͞oˈzhən/
5t4s5s3c1sd4s
invasion
/ɪnveɪˈʒən/
/invayˈzhən/
/ĭnvāˈzhən/
5t4s2c5t1sd4s
luxury
/lʌˈgʒɚi/
/luhˈgzhuree/
/lŭˈgzhûrē/
6sd7s1m5m
measurement
/mɛˈʒɚmənt/
/mehˈzhurmənt/
/měˈzhûrmənt/
5c1m5sd4s5s
occasion
/əkeɪˈʒən/
/əkayˈzhən/
/əkāˈzhən/
5sd2c5t1sd4s
occlusion
/əkluˈʒən/
/əklueˈzhən/
/əklo͞oˈzhən/
5sd2s6c1sd4s
Parisian
/pɚɪˈʒən/
/puriˈzhən/
/pûrĭˈzhən/
1m5t1sd4s
Parmesan
/pɑˈrməʒɑˌn/
/pahˈrməzhahˌn/
/päˈrməzhäˌn/
1sf3s5sd1sf4s
precision
/prəsɪˈʒən/
/prəsiˈzhən/
/prəsĭˈzhən/
1s3sd3t1sd4s
protrusion
/prətruˈʒən/
/prətrueˈzhən/
/prətro͞oˈzhən/
1s3sd5s3c1sd4s
provision
/prəvɪˈʒən/
/prəviˈzhən/
/prəvĭˈzhən/
1s3sd2t1sd4s
persuasion
/pɚsweɪˈʒən/
/purswayˈzhən/
/pûrswāˈzhən/
1m3s6c5t1sd4s
revision
/rəvɪˈʒən/
/rəviˈzhən/
/rəvĭˈzhən/
3sd2t1sd4s
sabotage
/sæˈbətɑˌʒ/
/saˈbətahˌzh/
/săˈbətäˌzh/
3t4sd5sf1s
soupe du jour
/suˌp də ʒɔˈr/
/sueˌp də zhawˈr/
/so͞oˌp də zhôˈr/
3c1s*1sd1c3s
transfusion
/trænsfjuˈʒən/
/transfyueˈzhən/
/trănsfyo͞oˈzhən/
5s3t4s3s5s8c1sd4s
treasury
/trɛˈʒɚi/
/trehˈzhuree/
/trěˈzhûrē/
5s3c1m5m
usual
/juˈʒəwəl/
/yueˈzhəwəl/
/yo͞oˈzhəwəl/
8c1sd6sd6s
usually
/juˈʒəli/
/yueˈzhəlee/
/yo͞oˈzhəlē/
8c1sd6m
visually
/vɪˈʒwəli/
/viˈzhwəlee/
/vĭˈzhwəlē/
2t1s6sd6m
circumcision
/sɚˌkəmsɪˈʒən/
/surˌkəmsiˈzhən/
/sûrˌkəmsĭˈzhən/
3m2sd5s3t1sd4s
disillusioned
/dɪˌsɪluˈʒənd/
/diˌsilueˈzhənd/
/dĭˌsĭlo͞oˈzhənd/
1t3t6c1sd4s1s
espionage
/ɛˈspiənɑʤ/
/ehˈspeeənahj/
/ěˈspēənäj/
5c3s1m5sd4sf7s
luxurious
/ləgʒɚˈiəs/
/ləgzhurˈeeəs/
/ləgzhûrˈēəs/
6sd7s1m5m5sd3s
measurable
/mɛˈʒɚəbəl/
/mehˈzhurəbəl/
/měˈzhûrəbəl/
5c1m5sd4sd6s
occasionally
/əkeɪˈʒnəli/
/əkayˈzhnəlee/
/əkāˈzhnəlē/
5sd2c5t1s4sd6m
pleasurable
/plɛˈʒɚəbəl/
/plehˈzhurəbəl/
/plěˈzhûrəbəl/
1s6c1m5sd4sd6s
revisionist
/rəvɪˈʒənɪst/
/rəviˈzhənist/
/rəvĭˈzhənĭst/
3sd2t1sd4t3s5s
subdivision
/sʌˈbdɪvɪˌʒən/
/suhˈbdiviˌzhən/
/sŭˈbdĭvĭˌzhən/
3sd4s1t2t1sd4s
supervision
/suˌpɚvɪˈʒən/
/sueˌpurviˈzhən/
/so͞oˌpûrvĭˈzhən/
3c1m2t1sd4s
television
/tɛˈləvɪˌʒən/
/tehˈləviˌzhən/
/těˈləvĭˌzhən/
5c6sd2t1sd4s
unusually
/ənjuˈʒəli/
/ənyueˈzhəlee/
/ənyo͞oˈzhəlē/
5sd4s8c1sd6m
visionary
/vɪˈʒənɛˌri/
/viˈzhənehˌree/
/vĭˈzhəněˌrē/
2t1sd4c3m
visualizing
/vɪˈʒəlɑɪˌzɪŋ/
/viˈzhəlieˌzing/
/vĭˈzhəlīˌzĭng/
2t1sd6s5t2t8s
immeasurable
/ɪmɛˈʒɚəbəl/
/imehˈzhurəbəl/
/ĭměˈzhûrəbəl/
5t5c1m5sd4sd6s
abuses
/əbjuˈzɪz/
/əbyueˈziz/
/əbyo͞oˈzĭz/
5sd4s8c2t2s
admission
/ædmɪˈʃən/
/admiˈshən/
/ădmĭˈshən/
5t1s5t6sd4s
cushion
/kʊˈʃən/
/kooˈshən/
/ko͝oˈshən/
2t6sd4s
fashion
/fæˈʃən/
/faˈshən/
/făˈshən/
5t6sd4s
pigeon
/pɪˈʤɪn/
/piˈjin/
/pĭˈjĭn/
1t7t4s
supervisor
/suˈpɚvɑɪˌzɚ/
/sueˈpurvieˌzur/
/so͞oˈpûrvīˌzûr/
3c1m2s5t2m
tissues
/tɪˈʃuz/
/tiˈshuez/
/tĭˈsho͞oz/
5t6c2s
urges
/ɚˈʤɪz/
/urˈjiz/
/ûrˈjĭz/
5m7t2s
concierge
/kɑˌnsiɛˈrʒ/
/kahˌnseeehˈrzh/
/käˌnsēěˈrzh/
2sf4s3m5c3s1s
pleasure
/plɛˈʒɚ/
/plehˈzhur/
/plěˈzhûr/
1s6c1m
measure
/mɛˈʒɚ/
/mehˈzhur/
/měˈzhûr/
5c1m
treasure
/trɛˈʒɚ/
/trehˈzhur/
/trěˈzhûr/
5s3c1m